ABOUT US
HK InstaYay is a group for any one in Hong Kong who loves to take photos and post them to Instagram. We organise regular photo walks exploring various parts of Hong Kong, including some that are uncommon. Through these photo walks, we hope to foster friendships and appreciation across people from diverse backgrounds, which in turn might deepen our love and understanding of our city, Hong Kong.
HK InstaYay was founded by Pete Lang @furkidsinhk, Riley Edwards @rig_ and Tyson Wheatley @twheat on 8 March 2011. We held our first photowalk on 20 March 2011, exploring Cheung Chau Island. There were a total of 13 people participated then, strangers met through shared passion for photography and Instagram. Since then, we have held over 23 InstaYays with the number of participants averaging at around 30-45 in each event.
Each photowalk is organised by a group of members on voluntarily basis. The organiser would research the location and prepare the route of the photowalk before making an official announcement. Angus Law @angushoyin, Candy Pang @panglap and Debbie @zoodweller are amongst those who have been the most helpful in putting together quite a few of the photowalks, generously assisting our founding fathers and other members.
Together, we have explored Cheung Chau, Sham Sui Po, Peng Chau, Repulse Bay, Victoria Peak, Ma Wan, Ping Shan Heritage Trail, Shanghai Street, Wong Tai Sin, Chi Lin Nunnery, Nan Lian Garden, Dragon's Back, Lamma Island, all things French around Hong Kong, Waterfall Bay, Tai Po, Sai Kung, Lei Yue Mun, Macau, Tap Mun (Grass Island), North Point, floating fish farm in Tai Po, Geopark Ma Shi Chau, Tai Long Wan Beach, and counting... With each photowalk, we made new friends and discovered more things to love and appreciate about Hong Kong.
Amongst the most memorable InstaYays are the First InstaYay held in Cheung Chau on 20 March 2011, the second InstaYay on 1 May 2011 when some of us spontaneously lied down across the road of Sham Sui Po, the overnight TramYay held on 27-28 August 2011 (led by Pete), the InstaYay8 where the organisers, Ming Hui @ming_hui and Yvonne @my_929 gave us all a series of sweet surprises at the end of the photowalk, and then our First Anniversary InstaYay on 25 March 2012 - back in Cheung Chau, but with almost six times the number of participants!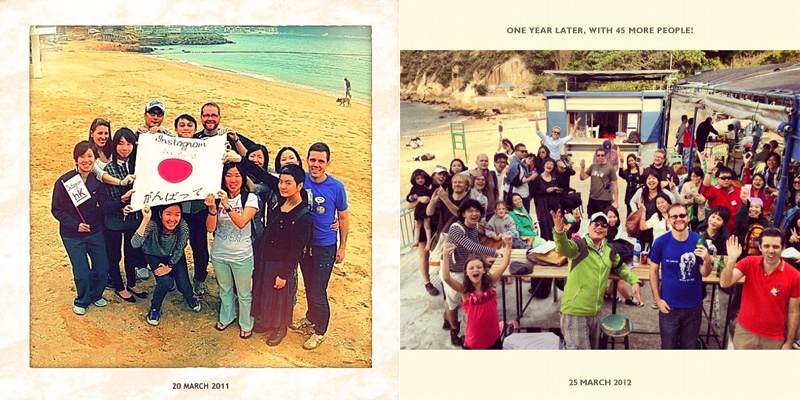 Now that we have formed a group, there are good things that we could do together for others less fortunate than us. With this in mind, Pete has organised some social activities to help elderlies and street hawkers in Sham Sui Po area. He introduced to us simple and yet thoughtful ways to help others. This in turn has strengthen our bonds, not only with each other, but also with the local community around us.
Some time ago, HK InstaYay has been approached by Hong Kong Tourism Board to collaborate in promoting Hong Kong. As a result, in 2011-2012 we have been actively involved in some of their special programs online and on TV to promote Hong Kong globally.
Our first iPhoneography exhibition, Hong Kong InstaYay, was held on 14 - 30 March 2012 at V13 Vodka Bar on Old Bailey, put together by Tyson. It was so exciting!
A couple of our members, Cla @blurryclaire and Jerry @jerrymug, have very generously published two books documenting InstaYay3 in Peng Chau and the Overnight TramYay mentioned above. They have also printed some name cards for us. We are very lucky to have them amongst our members! Check out their websites: pickper.me and mindustry!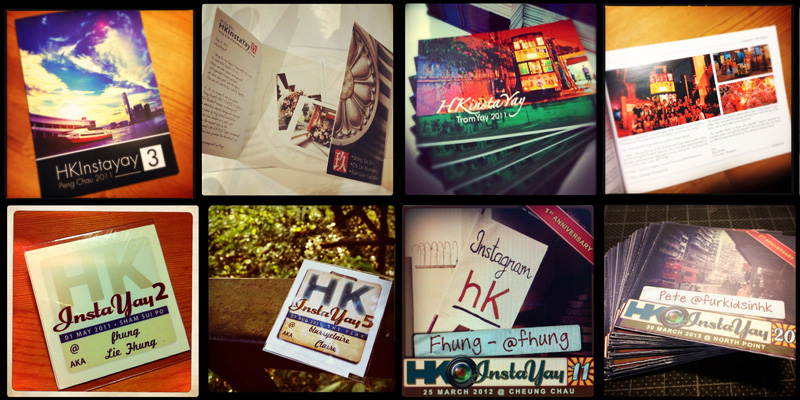 We also have an artist cum designer who enjoys taking care of HK InstaYay's logo, name badges, and website: @fhung, who initiated the very well-received HONG KONG kaleidoscope Exhibition, shown in December 7 to 14, 2013 at Dominion Garden, Wan Chai.
You can contact HK InstaYay through our Facebook Page or through @fhung.